Archives of May 2005
Keep your site as amused as possible
May 09, 2005 at 15:39
When everyone had grown up, his elaborative faculty had improved very much. Because the his age, status, Knowledge, position, Weltanschauung, philosophy, and thoughtway were different from before. When you are doing something, have you considered how others feel?
Someones were easily to say something disagreeable on the internet. Even wrote everything which disagreeable in his site. It's not necessary. Probably it will make your site disagreeable, and you will make your visitors tired.
So don't talk about something disagreeable in your site as possible. Fox example, barely I heard a song from my neighbor. But he listened to it and repeated it for many times, he always listened to this song, in truth this song is awful, such song will make people to be tired of popular music indeed. We need to choose the really fair-sounding popular music. But many people didn't want to choose by themselves in China. So they don't know what is popular music.
It's necessary to listen to a song for numerous times, such as 100 time, 300 times. But turn the volume down as possible, please.
It's disagreeable. It's just a real example, I hope that you don't mind if I've just mention it. So, keep your site as amused as possible, just talk about the happy topics.
I'm very glad that my visitors said to me "I'm very happy when visit your site". In our lives, we'd better to make others feel that "I'm happy when talk with you". It's very important, and you will have many good friends.

Permalink | Comments (0) | Trackback (0)
Notice for business to shoot your products
May 08, 2005 at 16:25
How to shoot the products to gain the best photograph quality? You can read the specification of the digital camera. There are 3 most important things:
If the product is less than 60 cm far to the camera, please open the "Micro" function. The sign is like a flower.
Make sure that close the Flash Light.
Make sure that use the tripod.
If you follow these 3 steps, you can gain the best photograph quality for your products.

Permalink | Comments (0) | Trackback (0)
May 08, 2005 at 14:43
I'm still alone in this city. When I have a coconut, I can remember the alone life. I was outside this afternoon and I was so thirsty when I came back home, I bought a coconut again.
I had drunk all the coconut milk quickly this time, and ate its fresh. In order to not to forget this feeling and the life when I drunk the coconut, I shot for it.
I suggest you to share coconuts with your family and friends, it's the crude drink and not expensive, just 2 yuan in Shenzhen, you can drink the coconut milk through the tube. When you haven't had coconut for a long time and extremely need water and need vitamins, don't forget coconut! Probably you need it. It's just one of my suggestions for you to reference. I like coconut!

Permalink | Comments (0) | Trackback (0)
Excellent mail template function of Foxmail
May 06, 2005 at 12:27
Download the English version of Foxmail
Foxmail is one of the best mail softwares. I like Foxmail prefer to Outlook, one of the reasons is because the mail template function is much better than outlook. You can make the HTML template for yourself, for example: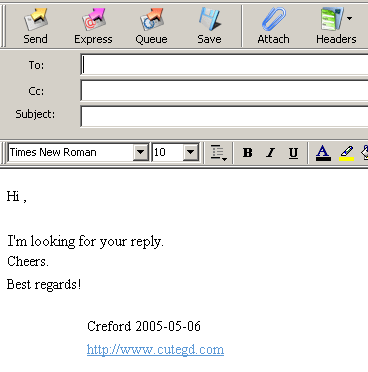 The HTML files is in the folder "C:\Program Files\Foxmail\Template\New" and "Template\Reply", you can directly edit these files. Or you can edit templates in the Foxmail "Templates Manager". Such as: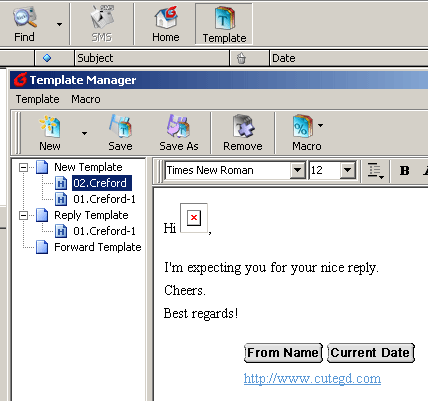 The way is not difficult. Open the "Templates Manager", click "New→New HTML Template", like the picture below:
Click the right mouse button on the blank place, choose "Macro", you can choose the text template that you need.

Permalink | Comments (0) | Trackback (0)